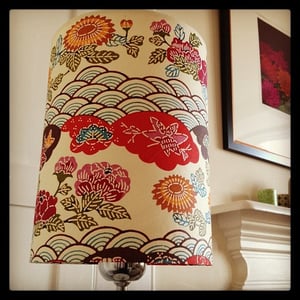 £

40.00
Cylinder Shade - 15cm diameter 20cm height (approx 6" x 8")
Suitable as a pendant or on a base. Ideal as bedside lamps.
The paper used to make this shade is hand stencil dyed Katazome-Shi paper from Japan, the finished edges are hand rolled. The paper is strong, durable and printed with long lasting dyes and features a light and playful design of flowers. The background is a neutral off white printed with red, blue, mustard yellow, mid green, orange and brown. Although bold, the paper and dyes have a natural quality.
Traditional Kimono printing techniques are used to make this hand stencil dyed paper. True craftsmanship is required to create intricate paper stencils cut out with various tools. A resist paste is applied to the base paper and then colour, the stencil moved and the process is repeated to build up the pattern. This a highly labour intensive process that results in a paper that has timeless appeal and an unmissable look of a print made by hand
The shade is handmade has one seam and handrolled edges.