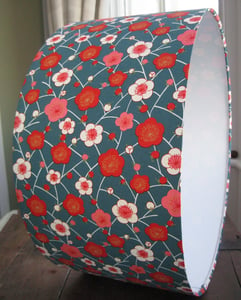 £

80.00
NEW SIZE A large drum shade 45cm diameter x 25cm height. (17.7" x 8")
Stunning Chiyogami paper from Japan. This design of red and pink flowers on a slatey blue background has been screen printed in layers on washi paper. When the light shines it takes on a more orangey glow. Equally at home in a traditional and contemporary setting.
Made using Chiyogami Paper from Japan. Each sheet is hand silk-screen printed requiring a separate screen that is hand-registered for each colour that appears in a pattern. The technique gives the paper a unique quality, you can sometimes feel and see the different layers of print giving added depth to the pattern.
The inks used on these papers are very light fast and the vibrant colours will last, the paper is also very durable. The shade is made from two pieces of paper and therfore has 2 seams. The shade has hand rolled edges.
Please contact me if you are interested in a custom order for a different size.
N.B Shipping:
Unfortunately due to the size of this large shade shipping works out fairly expensive if you live outside Europe. Although light in weight the price reflects cargo space. I have done my best to subsidise the prices, if you have any queries regarding shipping please email me.