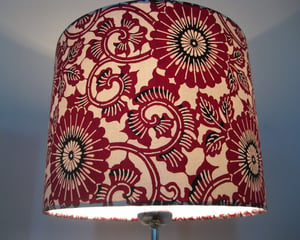 £

55.00
Medium Drum Shade 25cm Diameter x 20cm Height
Suitable as a pendant shade or for use on a base.
Warm bright red contrasting with cream and black and a striking pattern are a winning combination for a unique and joyful shade.
Strong, durable paper printed with long lasting dyes have been used to make this paper that features a striking pattern of red flowers. The pattern is uniformed but not laid out in an exact geometric form giving it a distinct and hand crafted quality.
The paper used to make this shade is hand stencil dyed Katazome-Shi paper from Japan, the finished edges are hand rolled. Traditional Kimono printing techniques are used to make this hand stencil dyed paper. True craftsmanship is required to create intricate paper stencils cut out with various tools. A resist paste is applied to the base paper and then colour, the stencil moved and the process is repeated to build up the pattern. This a highly labour intensive process that results in a paper that has timeless appeal and an unmissable look of a print made by hand